Creating "Blue Water Highways" to move freight "Door to Door" by shore.

The Roadships Group
For over 20 years the Roadships Group has been forging forward to bring efficient environmentally friendly transport infrastructure to Australia, the United States of America and Europe. The Roadships Group is a staunch collective of stakeholders, investors and industry participants who have never lost sight of our objective while remaining at the cutting edge of new developments in the burgeoning global transport infrastructure sector.
Roadships latest evolution, AmerYcan Roadships, once again places Roadships at the forefront of Global Transport Infrastructure Development.
We are not freight movers, we are transport equipment developers and builders.

The Urgent Need
Global Industry experts anticipate a freight capacity crunch of epic proportions over the next ten (10) years or so, as volume grows widening existing infrastructure gaps, to the extent and degree that building more roads or expanding rail capacity to meet projected demand is simply not viable.
The U.S. inter-modal freight system is now being operated in many areas near the limits of economically sustainable capacity. Clearly there is a call for innovation and a means and methodology beyond those now most commonly employed.
To assimilate projected growth, a solution that not only accommodates this expansion, but relieves current levels of congestion by shifting freight movements away from over-crowded highways is proposed by AmerYcan Roadships.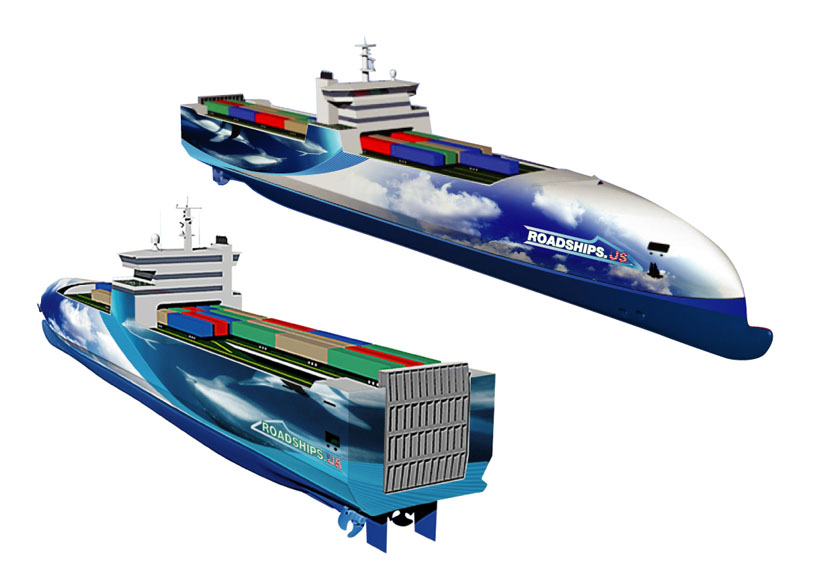 High Tech Ships and Ground Equipment
In response to the U.S. Maritime Administration Coastal Transportation Initiative and Australian Transport Advancement, Roadships in partnership with international ship builders, developed a proprietary design of a high-speed Ro/Ro vessel for use in the U.S. inter-modal coastal transport trade.
The pedigree for the Roadships High Speed (HS) Monohull design proposed for the Roadships program comes from a vessel concept that was initially developed by Kvaerner Masa Yards.
The Roadships High Speed Monohull is the concept of using a hull form derived from the model test program that allows the use of high output medium speed diesel engines to achieve the service speed of 30 knots.
The Vessels are 200 meters LOA, wave-piercing mono-hull design, 30 knot service speed, 25-foot draft, 2430 lane-meters providing a capacity of 148 53' trailers utilizing three decks. The vessels are designed for maximum dispatch capability utilizing two (2) deck simultaneous load/discharge operations. The general arrangement provides for a stern straight in load/discharge configuration with no turning lanes and minimal obstructions.
The Roadships Group has designed proprietary ground equipment for efficient loading, unloading and in-transit operation.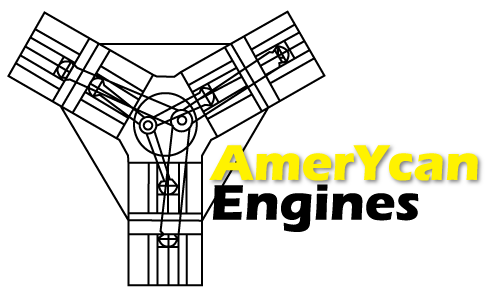 A New Engine to meet the Need
During the 1940's, World Power came down to equipment capabilities and the world is once again faced with the same challenge. In 1943 the British Admiralty commissioned a committee to develop a high-power lightweight diesel engine for Motor Torpedo Boats. D. Napier & Son stepped forward and the Napier Deltic 18 cylinder, opposed-piston supercharged diesel engine became the power plant that changed the world.
The AmerYcan™ opposing-piston, divaricate cylinder, variable stroke tri-fuel engine proposes a geometric configuration to meet the new world requirements.
The Roadships High Speed Monohull requires 40 megawatts to achieve a 29-knot speed and an increase to 79 megawatts to reach above 30 knots of speed. The AmerYcan™ Engine as a high-speed low-density tri-fuel ship engine, will allow a Roadship vessel to have variable power outputs while in operation as the power needs are required.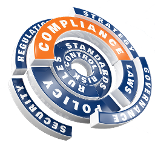 Corporate and Industry Compliance
The Roadships™ Group, which comprises stakeholders, shareholders and industry participants is currently reviewing strategic market plans including a possible capitalization and stock exchange listing. Roadships has standing and ongoing relationships with Legal, Accounting and Corporate Advisors globally.
In the United States of America, AmerYcan™ Roadships has carried out substantial feasibility and due diligence work to prepare and propose Jones Act compliant trade routes.
In Australia, Roadships has proposed trade routes between Perth, Western Australia, and Melbourne Victoria. This is an approved cabotage trade route.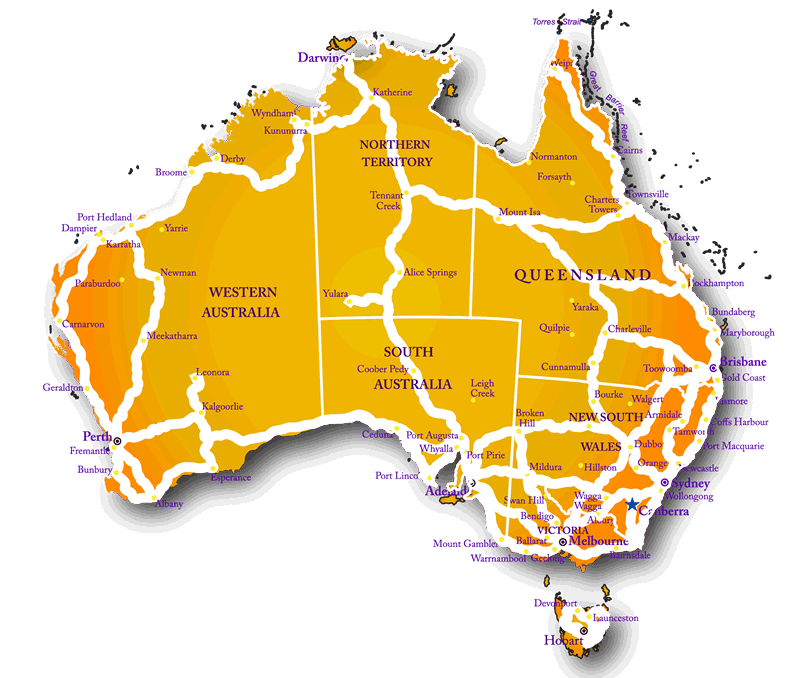 Australia
The initial trade route for AmerYcan Roadships in Australia is designated to operate between the state capital cities of Melbourne and Perth. Feasibility studies and industry collaboration have shown a genuine need for a 3 ship operation which can show efficiencies above the current road and rail operations.
United States of America
Extensive feasibility studies, industry collaboration and trade route modelling has been carried out identifying multiple ship requirements for east coast trade routes. Overall, 3 trade areas have been identified, East Coast, Gulf Region and West Coast.
The nuts and bolts of how it works
It starts with a local driver connecting to an authorized Roadships trailer allocated for loading in the daily schedule. The driver then tow hauls the trailer to the customer's loading yard and loads the trailer for return to the Roadships marshalling yard.
The loaded trailer is then positioned and connected to a loaded trailer chain according to its weight and configuration. The trailer chain is then towed directly onto the waiting Roadship vessel via Roadships proprietary ship loader and secured for sea travel via Roadships proprietary loading equipment.
The loaded Roadship vessel then departs the landing bridge and steams to its next destination landing bridge. Upon arrival, the Roadship authorized trailer chains are towed off as one unit and disconnected in the marshalling yard.
The loaded authorized Roadships trailer is then tow hauled by a local driver to the receiving customer's loading yard for delivery. The customer's freight has now been moved efficiently and securely "Door to Door via Blue Water Highway".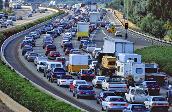 Congestion
Infrastructure Australia recently updated the 2019 Australian Infrastructure Audit to reflect; "Infrastructure Australia's updated modelling estimates that road congestion and public transport crowding cost the Australian economy $19 billion in 2016 and without continued infrastructure investment this cost will more than double by 2031 to reach $39 billion.
The USA Federal Highway Administration found research on the trucking industry has shown that shippers and carriers value transit time in the range of $25 to $200 per hour depending on the product being carried. However, the cost of unexpected delays can add another 20% to 250%.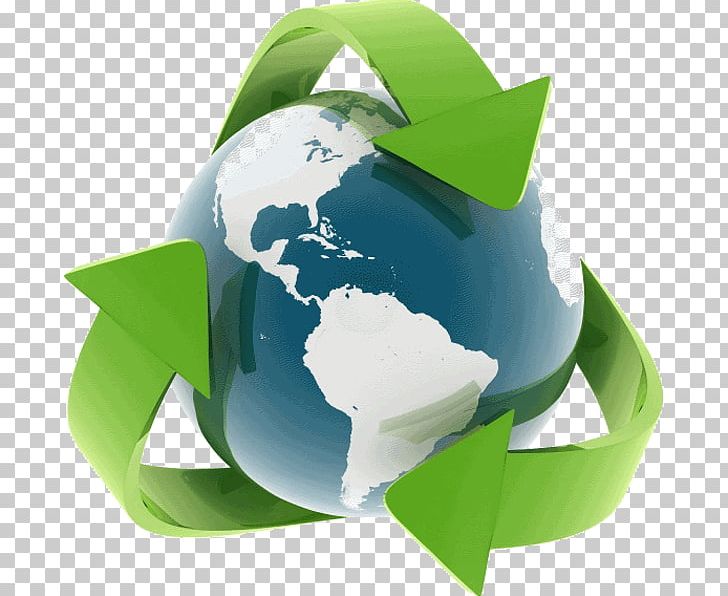 Environmental Impact
The overall environmental impact of AmerYcan Roadships proposed transport infrastructure is substantial and brings many short and long term benefits to current global concerns.
Cities & Ports:
Modern Coastal Cities are built around established ports which exponentially increase road and other congestion issues. AmerYcan Roadships includes plans to decentralize port facilities and locate low impact unloading facilities outside of current cities.
Industry & Jobs:
AmerYcan Roadships plan of operations does not create redundancy and in most cases brings relief from driver shortages.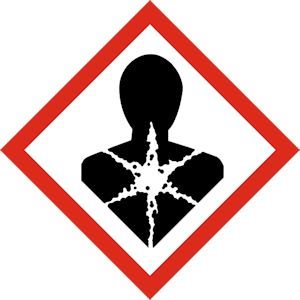 Carcinogenic Fuel Use
AmerYcan Roadships will mitigate and migrate the use of carcinogenic fuel over land mass and populated areas.
Efficiency
Early efficiency modelling shows up to 21% reduction in freight movement costs.
Added to this is increased security, reduced tyre and consumable usage along with lower insurance costs.
AmerYcan™ Roadships™ "the future of transport logistics"

About Us
AmerYcan Roadships is an advanced transport infrastructure project in the process of formally incorporating, capitalizing and seeking a stock market listing.
Contact us:
Australia:
10, 8 Inventory Circuit, Gold Coast Logistics Hub, Arundel, Queensland, Australia 4214
Allstate Transport Acquisitions Pty Ltd (Sydney, Australia)
United States of America:
3773 Howard Hughes Parkway, Suite 500S, Las Vegas, NV 89169-6014
email: mnugent@roadships.us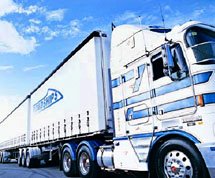 © Copyright AmerYcan Roadships